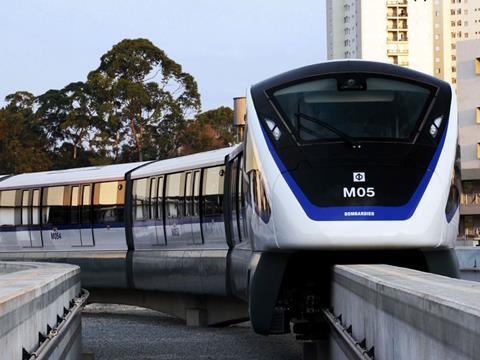 BRAZIL: São Paulo State Governor João Doria has announced that the São Paulo metro Line 18 project has been cancelled. A PPP concession to build, operate and maintain the monorail line was signed in 2014.
The planned alignment from Tamanduateí to Estrada dos Alvarengas in the south will now be mostly replaced by a bus rapid transit line that would mostly follow the same route.
Doria also announced that the planning of metro Line 20 will be brought forward so that the project is included in the budget for next year. Line 20 would be built in two phases. The first 24·5 km would run from Lapa in the northwest to Moema in the southwest, with a southern extension to Alfonsina following as the second phase.
Following delivery of the last Hyundai Rotem Series 9500 electric multiple-unit to CPTM Line 7 on June 28, 12 Series 7000 trainsets have been transferred from Line 7 to Line 10.