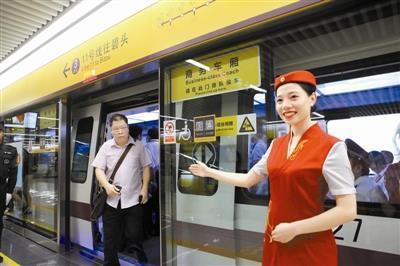 CHINA: A metro connection to Shenzhen Bao'an International Airport was opened on June 28 with the partial entry into service of Line 11. Four stations are open, with the remaining 14 due to open by the end of the year. Each train has two cars designed for airport passengers, with extra luggage space and padded seats; these come with a premium fare.
The initial section of Line 11 runs from the airport in the northwest to Futian in the city centre, where interchange is provided with high speed main line services. Two intermediate stations are open at Houhai and Qianhaiwan, which provides interchange with lines 1 and 5. All four stations offer check-in facilities for most domestic flights.
Services operate between 06.30 and 23.00 at 10 min frequencies, although this is expected to increase to 2½ min when the line is fully open.
When complete, Line 11 will be 51·9 km long, serving 14 underground and four elevated stations. It is operated with a fleet of eight-car Type A trainsets supplied by CRRC Zhuzhou with a maximum speed of 120 km/h and average operating speed at 80 km/h. Each trainset has capacity for 2 564 passengers.
In the future the northern terminus of Bitou will offer interchange with Line 2 of the Dongguan metro. The initial section of this line opened on May 27, and an extension to Bitou is planned.