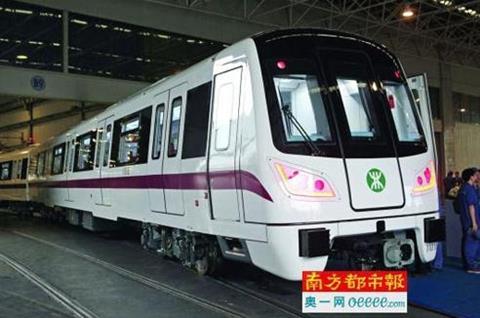 CHINA: CSR Zhuzhou rolled out the first trainset for the future Shenzhen metro Line 11 on July 6. The eight-car Type A trainset includes two first-class cars and a capacity of 2 500 passengers.
Shenzhen Metro has ordered 33 trainsets for Line 11 under a 2·1bn yuan contract. Deliveries are due to run from September 2015 until June 2016.
The 51·9 km Line 11 electrified at 1·5 kV DC is designated as a 'fast line' with maximum speeds of 120 km/h. It will run from Futian in the city centre, where interchange will be provided with lines 2 and 3, west to Shenzhen West main line station, then north to Shenzhen Ba'oan International Airport and Bitou. The alignment runs underground for 39·4 km, with 14 stations, with the rest of the route and four stations elevated. Opening is scheduled for mid-2016.
A feature article on the Shenzhen metro appeared in the September 2014 issue of Metro Report International, available to subscribers in our digital archive.