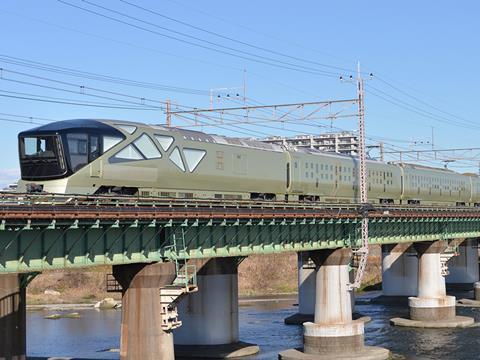 JAPAN: East Japan Railway is testing a luxury cruise train ahead of its planned launch on May 1. Known as the Train Suite Shiki-Shima (Island of Four Seasons), and bearing the designation Series E001, the 10-car set has an observation car at each end offering passengers unobstructed panoramic views. Three cars have been built by JR East subsidiary J-TREC and the remainder by Kawasaki Heavy Industries.
Intended for trips lasting one, two or three nights, the train has accommodation for a maximum of 34 passengers. Five cars have standard suites and one car offers additional comfort with deluxe compartments and a 'Shiki-Shima suite' that includes a bath made of Japanese cypress. A lounge car and a dining car complete the set. In addition to electric traction equipment, the train has diesel engines installed in each end car, giving it the ability to operate widely over JR East's 1 067 mm gauge network.
JR East has drawn up a range of itineraries starting from Tokyo Ueno designed to offer customers scenic and cultural experiences in northern Honshu, with some trips extending through the Seikan tunnel to Hokkaido. Prices start at ¥320 000 per person.
The train's styling is the handiwork of Ken Kiyoyuki Okuyama, CEO of Ken Okuyama Design, who was a senior designer for Porsche AG and a design director for Pininfarina SpA. Catering is in the hands of Katsuhiro Nakamura, who is a director and Honorary Grand Chef of Nippon Hotel.