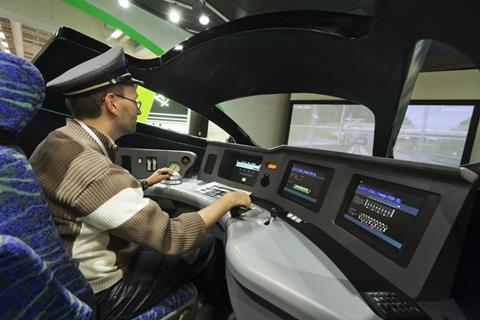 JAPAN: Opportunities to drive trains on the Shinkansen are rare, but visitors to InnoTrans are able to do just that on a driver training simulator on the JR East stand. Supplied by Ongakukan Co Ltd, the simulator offers a 4K technology screen with an accurate representation of driving an E5 Shinkansen trainset using real video footage filmed from the front of a train.
Trainee drivers can experience operation with the train controlled by the DS-ATC at the full Tohoku Shinkansen line speed of 320 km/h, and the automatic application of emergency brakes when an earthquake is detected.
The driver's cab features the E5's information displays and controls. Audio simulations reproduce the noise of traction motors, the ATC chimes and other sounds. If the trainee activates the horn when the train is approaching a station platform, he will see passengers who may be standing close to the edge of the platform step back from the edge. The version on display has simplified functions compared with a full driver training simulator.
Ongakukan has previously supplied a driver training simulator to JR Kyushu depicting the Kagoshima line fitted with ATS-DK signalling equipment. Another simulator was supplied to KTMB in Malaysia for training drivers of inter-city services between Ipoh and Seremban.
The company has also developed a hybrid train simulator which uses both real video footage and computer-generated images. It can be set up to use computer-generated images initially that can later be replaced by video.