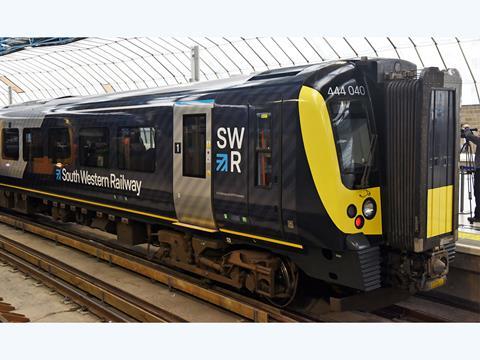 UK: The replacement South Western franchise, awarded to a joint venture of FirstGroup and MTR Europe, was formally launched at London Waterloo on September 4. The franchise had begun on August 20, but with Network Rail's blockade at Waterloo still underway the launch was held back until platform extension work had been successfully completed.
The new South Western Railway brand had already been revealed on handover day, but the Waterloo event was used to unveil the new SWR livery which will be progressively applied to the fleet it inherited from previous franchisee South West Trains, which was owned by Stagecoach.
Commitments under the replacement franchise include the introduction of 90 new Bombardier EMUs on suburban services by December 2020, and an additional 20 000 morning peak seats into London and 30 000 evening peak seats out of the capital by the same date. SWR is also to introduce an 'innovative' customer app with mobile ticketing, improve wi-fi coverage and invest £90m in stations, as well as providing at least 1 500 additional car parking spaces.
'The exciting thing about the bid from First and MTR was that they had plans to take this railway forward', said Transport Secretary for Transport Chris Grayling. 'However, whilst I welcome the new franchise, the bad news for the operator is that I'm a regular customer.'
'We will deliver better trains, more seats and faster services', said FirstGroup Chief Executive Tim O'Toole, announcing the introduction of Delay Repay at SWR as well as the release of '100 000 half-price leisure tickets'.
'We know how much there is to do to really bring about change, it's a journey that's going to be fantastic', said Jeremy Long, CEO, European Business, at MTR Corp.