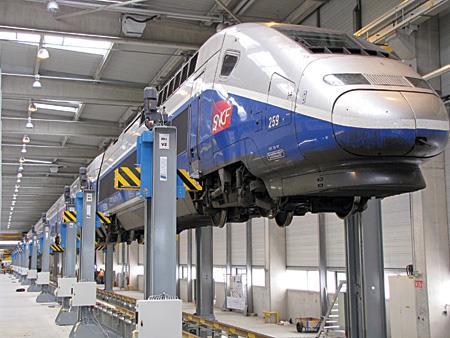 FRANCE: Chaired by Arnaud Montebourg, the minister charged with reviving France's manufacturing sector, a strategic committee for the railway supply industry met for the first time in Valenciennes on January 11. The meeting was also attended by Transport Minister Frédéric Cuvillier and Foreign Trade Minister Nicole Bricq.
Comprising several large groups and around 1 000 small and medium-sized enterprises, the French railway sector currently employs around 21 000 people. The Hollande administration is keen to support the domestic supply industry as it seeks to win more export business, particularly in Asia and in the urban sector.
Over the next 10 years the government expects orders worth between €5bn and €6bn to be placed, which may include a firm order from SNCF for 40 TGV trainsets. The Transport Ministry has committed to spend €400m this year to renew the fleet deployed on loss-making longer-distance passenger services known as trains d'équilibre du territoire, while the Ministry of Economy & Finance is to examine ways of making finance more readily available for the acquisition and refurbishment of rolling stock for TER local services, drawing on funding sources such as state-owned development bank Caisse des Dépôts.
The Transport Ministry has also launched a third funding competition for fixed-guideway urban transport projects, under which up to €450m is to be made available to local authorities. Expressions of interest have been invited from suppliers in funding to support research and development as well as 'innovative' projects, for which a total of €40m is being made available.