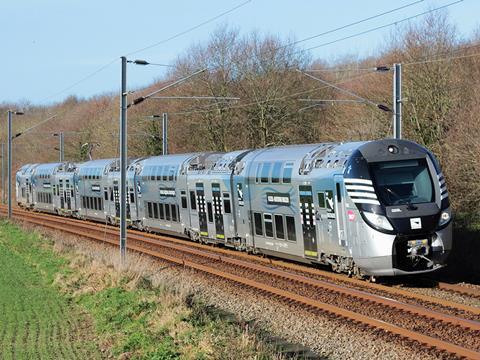 FRANCE: Ile-de-France transport authority STIF announced on May 23 that it will be providing 100% of the funding for an order for 83 Bombardier Régio2N double-deck EMUs, worth €1∙1bn.
Of the new fleet, 69 trainsets will be deployed between the end of 2019 and 2021 to replace locomotive-hauled VB2N coaches on Line N of the Paris suburban network, running from the Montparnasse terminus to Mantes-la-Jolie, Dreux and Rambouillet. Line N serves a total of 35 stations and is used by 117 000 passengers a day.

The remaining 14 Régio2N EMUs may be deployed by 2021 on RER Line D from Juvisy-sur-Orge to Corbeil-Essonnes and Malesherbes. According to STIF, this will depend on the future restructuring of services on the southern section of Line D from 2019, due to be decided towards the end of this year.

STIF President Valérie Pécresse said that the order formed part of the 'transport revolution' which aims to replace over 700 trainsets in a five-year period. 'This massive investment is essential to improve the punctuality of our rail services', she said, and would also provide better travelling conditions for passengers in the Ile-de-France region.

This latest order would take the number of Régio2N trainsets to be funded by STIF to 125. A batch of 42 are due to enter service next year to replace the existing fleet on Line R, running from Paris-Lyon to Montargis and Montereau-Fault-Yonne.