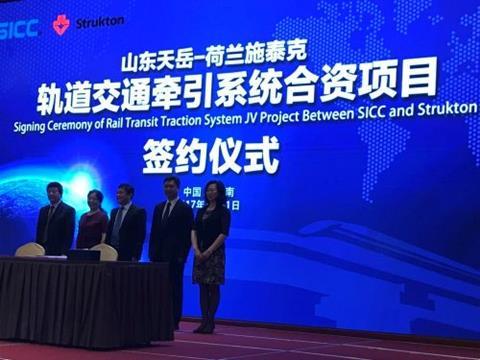 CHINA: Strukton Rolling Stock signed a joint venture agreement on May 31 with Jinan-based Rnomac Group subsidiary SiCC Co, which specialises in the manufacture of semiconductor materials.
The joint venture, named Shandong SRCC Rail Transport Technology Co, aims to supply traction equipment and railway systems for the Chinese market. Strukton Rolling Stock will design and manufacture the main components from its base in the Netherlands, with SiCC providing final assembly in China.
The joint venture's first bid will be for traction equipment for the 18 six-car trainsets that are to be used on the 19 km metro Line R3 in Jinan.
Strukton sees further potential in Jinan, which is planning to build an eight-lines metro network by 2023 covering 275 route-km and 176 stations. Six more cities in Shandong Province are building metro lines, and Strukton notes that the Chinese government has approved metro plans in 43 cities over the next five years, which could see the purchase of 5 000 vehicles.