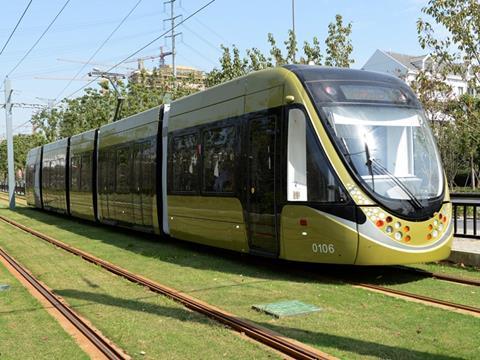 CHINA: Suzhou's first tram line opened on October 26, just over two years since construction began, with 12 500 passengers carried on the first day.
Non-passenger carrying test running started on June 28. Between October 12 and 21, 50 000 tickets were provided for local residents to ensure realistic testing and to increase public awareness.
The 18·1 km route servers the southwestern Gaoxin district. It runs west from Suzhou Leyuan, which offers interchange with metro Line 1, to Longkanglu. The route is mostly at grade, apart from a section that dips under a road and a 1 km elevated alignment over a motorway. A depot west of Majian Lu is due to open at the end of this year.
Services are operated by Suzhou New District Tram Co and currently run every 10 min to 20 min. The end-to-end journey time is around 45 min, and there are 11 stops, with 11 more to open in the longer term.
CSR Nanjing Puzhen Rolling Stock Co has supplied 18 100% low-floor bidirectional trams under a 10-year technology licensing agreement signed with Bombardier Transportation in July 2012. The five-section vehicles, based on Bombardier's Flexity 2 design, are 32·2 m long and 2 650 mm wide with capacity for 382 passengers. They are equipped with Flexx Urban 3000 bogies and Mitrac propulsion equipment, and have a maximum speed of 70 km/h.
Line 1 is the first of six planned for Gaoxin. Construction of Line 2 started in July, and is planned to open by the end of 2016.