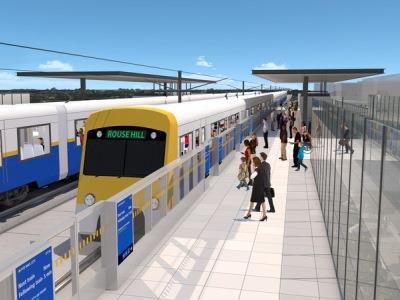 AUSTRALIA: New South Wales Premier Mike Baird and Minister for Transport Gladys Berejiklian announced plans for the Sydney Rapid Transit project on June 11. The scheme would extend the North West Rail Link now under construction through the city centre to Bankstown in the southern suburbs. It is one of the projects included in the state government's 2012 plan Sydney's Rail Future.
Work could start in two or three years, using funds raised from selling off the state's electricity network poles and wires, which Baird said was expected to raise A$20bn.
The project would add 30 km to the automated NWRL, using a fully segregated alignment. The line would be extended south by 3 km from Chatswood to St Leonards, and then tunnel under Sydney Harbour and the city centre to meet the existing Bankstown Line at Sydenham. This would require 12·5 km of bored twin tunnels route and the upgrading of 13·4 km of existing tracks between Sydenham and Bankstown to 'rapid transit' standards.
Three underground stations would be built, at Central, Pitt St and Martin Place, where interchange would be provided with Sydney Trains' Eastern Suburbs Line. Stations are also planned at St Leonards/Crows Nest and Victoria Cross in North Sydney. Platform screen doors would be provided at all stations to enable the operation of fully-automated single-deck trains at a peak frequency of 30 trains/h.
The NSW government also announced that work is to about to begin on the Western Sydney Rail Upgrade Programme, which includes signalling and power supply upgrades, as well as additional tracks to segregate fast and slow trains on the Western Line between Sydney and Paramatta. This programme would allow the operation of 'up to 60% more trains' across the network, accommodating an increase of 100 000 peak hour passengers.
'This package of significant rail projects will unlock Sydney's rail capacity for generations to come, and will benefit rail commuters across the entire network', said Baird.