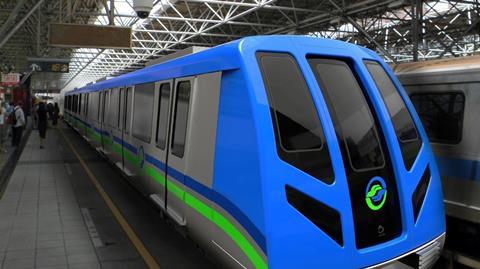 TAIWAN: A consortium of Alstom and local engineering company CTCI has reached contractual close on the contract to supply rolling stock and railway systems for the second phase of Taipei's Wanda Zhonghe Shulin Line.
The medium-capacity automated light metro project is also know as the Light Green Line and Line 7.
In 2018 Taipei City Government's Department of Rapid Transit Systems awarded the consortium a €378m rolling stock and railway systems contract for Phase 1. This will run 9·5 km southwest from Chiang Kai-Shek Memorial Hall on the Xindian Line to Juguang with nine stations, and is under construction for opening in 2025.
The Phase 2 contract finalised on June 23 is valued at close to €424m. It covers a 13·3 km extension to Huilong, which is the western terminus of the Xinzhuang Line in New Taipei City. It will add two underground and 11 elevated stations, and is scheduled for completion in late 2028.
Consortium leader Alstom's €248m share of the railway systems contract includes the supply of a further 16 four-car Metropolis trains, Urbalis 400 communication-based train control, SCADA and platform screen doors. The trainsets will be produced at Alstom's Taubaté factory in Brazil, with signalling supplied from its Saint-Ouen site in France and Bengaluru in India.
CTCI will supply the track, power supply, depot equipment, telecoms and ticketing systems. Alstom and CTCI will jointly carry out project management and system integration.
'Taipei Metro Line 7, which interchanges with five other lines, will be a game changer for the travelling public of Taipei, and Alstom is delighted to continue to be a part of this iconic project', said Ling Fang, Senior Vice-President of Alstom Asia-Pacific.