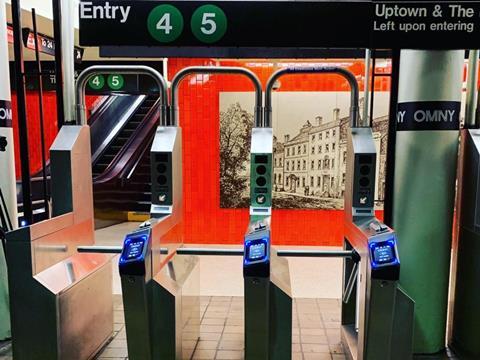 USA: An event at Bowling Green station on May 31 marked the start of the public pilot of closed-loop account-based contactless ticketing in New York.
OMNY readers accept contactless bank cards, as well as Apple Pay, Google Pay, Samsung Pay and Fitbit. Cubic Transportation Systems has supplied the technology, having been selected by Metropolitan Transportation Authority in 2017 for a 69-month contract with options for an additional 15 years.
The initial phase runs to the end of 2019 and covers the 16 Subway stations on the on the 4, 5 and 6 lines between Grand Central-42 Street in Manhattan and Atlantic Avenue-Barclays Center in Brooklyn, as well as all MTA buses on Staten Island. Initially only full-fare single journeys are available on OMNY.
MTA expects that OMNY will be rolled out to the rest of the Subway and Staten Island Railway networks, and all bus routes, by late 2020. This would be followed by the Long Island Rail Road and Metro-North Railroad by early 2021.
Between 2021 and 2023 more fare options would be added, and an OMNY smart card would be made available for those that do not wish to use a bank card or device. The existing MetroCard is to be discontinued from 2023.