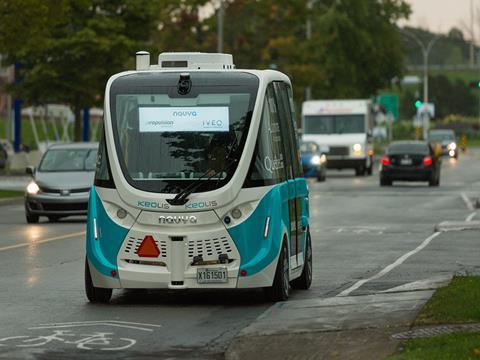 CANADA: This month Keolis and the City of Candiac launched what they say is the first long-term demonstration of an autonomous electric shuttle on public roads in Canada. 'We invite all public transit users and anyone who is curious or interested to come and try it now', said Mayor Normand Dyotte.
The Navya autonomous shuttle with capacity for 15 passengers and an operational speed of 25 km/h will operate along a 2 km route between a park-and-ride site, a bus terminal and the intersection of Marie-Victorin and Montcalm North boulevards. There are several stops including City Hall, a retirement complex and local businesses, and the route also includes a railway crossing and a junction with traffic lights.
The initiative is being supported by the government of Québec, Technopôle IVÉO and the Propulsion Québec 'cluster' for electric and smart vehicles.
The pilot project is scheduled to run for 12 months, including eight months of passenger operation. During the winter period, a research and development project without passengers on board will test how the shuttle adapts to winter conditions. An operator will be on board the shuttle throughout the pilot project.
'This initiative is exciting because it's the first pilot project in Canada, and the way it's carried out will set the course for the next one', said Marie Hélène Cloutier, Vice-President, Passenger Experience, Marketing & Sales for Keolis Canada. 'For Keolis Canada, multimodal service is the key to the future of transportation. Autonomous electric shuttles are a great example of this because they complement existing services.'