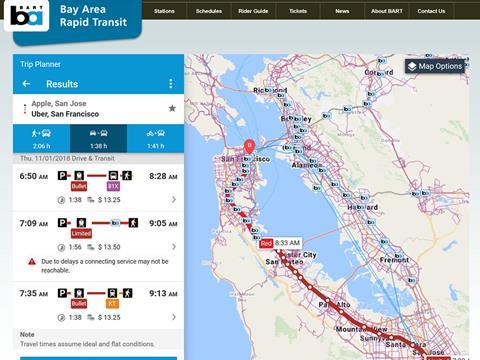 USA: Bay Area Rapid Transit has worked with HaCon to develop BART Trip Planner web, iOS and Android apps for multimodal door-to-door journey planning in the San Francisco Bay Area. Siemens-owned technology company HaCon said it was a 'major upgrade' from the previous system, which was solely based on the scheduled timetable.
The software processes data from more than 30 operators in the nine Bay Area counties, including buses, trains, ferries and the famous cable car trams. It also takes into account walking, cycling and car routes, including current traffic levels. Integrated park & ride and bike & ride data includes information on parking and cycle storage availability at BART stations. Ride-sharing and cycle-sharing options are to be added in the next phases.
HaCon's HIM tool enables BART to respond to disruption more quickly and more accurately than before. Service advisories and alerts such as station closures, bus replacement services, station or trip-related messages are communicated in real time, and the trip planner can re-route passengers in accordance with potential service changes.
A step-by-step navigation feature factors in personal preferences such as favourite modes of transportation, and can route users to BART station entrances and exits. Train loading information gives riders the opportunity to pick less crowded services.
'The new trip planner takes the hassle out of commuting because it provides a complete look at someone's journey and offers a variety of ways to avoid traffic', according to Ravi Misra, BART Chief Information Officer. 'All trips use BART as the lynchpin of the itinerary and then make it easy to get to and from our stations using the various modes of transportation the Bay Area offers.'