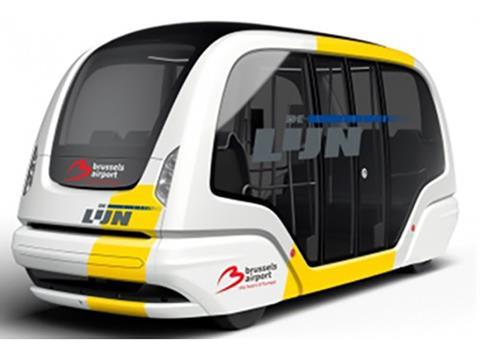 BELGIUM: Flemish local transport operator De Lijn and Brussels Airport Co have approved a two-stage pilot project which could see a self-driving electric bus operating in mixed traffic.
Flemish Minister for Mobility, Public Works, the Flemish Periphery of Brussels, Tourism & Animal Welfare Ben Weyt said driverless vehicles were already operational in other countries, 'but that is often in a separate lane with a steward on board'. In contrast, the Brussels Airport project aims to have the self-driving shuttle drive autonomously on the public roads. 'This is cutting-edge technology that really appeals to the imagination', he said.
The two-year first phase will start with vehicle supplier 2GetThere developing and testing the technology at its site in Utrecht during 2018-19. Assuming this is a success, the self-driving bus would then be delivered to the airport in early 2020 for further testing without passengers or staff in the Brucargo business zone.
If this first phase is completed successfully, De Lijn and Brussels Airport Co then plan to use the self-driving bus to transport passengers, visitors and staff between the terminal and Brucargo from 2021.
The costs of the trial are being shared, with De Lijn supporting work to benefit people arriving at the airport by bus or train, and the airport operator footing the costs for transporting people arriving by other means.
Announcing its approval for the scheme on April 20, Brussels Airport Co said this would be one of the first mixed-traffic autonomous vehicle projects in Belgium. 'This technologically innovative project to have a self-driving electric bus operating a fixed route, also fits in with our environmental commitment to keep the impact on our surroundings as low as possible', said CEO Arnaud Feist.