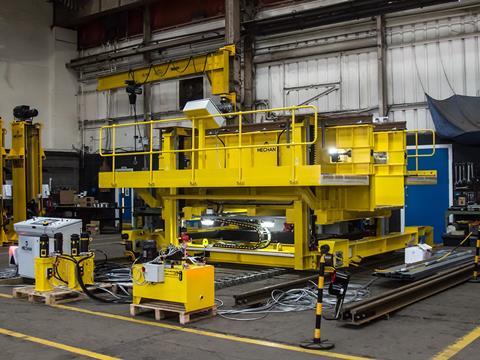 EGYPT: Representatives of the National Tunnels Authority and Cairo metro depot operator Colas Rail recently visited the UK to inspect a bogie drop which Sheffield-based depot equipment manufacturer Mechan is to supply for a depot on Line 3, the Al Thawra line.
This will enable bogies to be removed and refitted without needing to uncouple metro cars from a trainset, reducing the time which a train is out of service and helping to meet growing passenger demand.
The bogie drop is scheduled to be installed during June. As part of the contract Mechan will make two scheduled maintenance visits per year for the next two years, and provide spare parts for five years.
Mechan supplied a similar bogie drop to Cairo in 2010. 'Our original bogie drop is still working reliably and efficiently and it is a huge endorsement of our build quality that Colas Rail requested a replica', explained Sales Manager Lindsey Mills. 'Despite the language barrier and time zone issues, the design and build process has been issue-free and we look forward to completing the project later this year.'