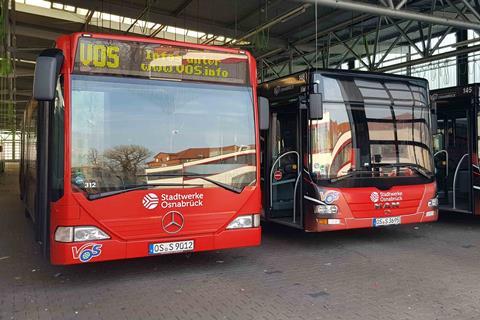 GERMANY: A Check-in/Be-out bus ticketing system with a best price guarantee is being tested by the Osnabrück municipal bus operator's staff ahead of passenger use.
Travellers check-in to the bus by swiping in the local public transport app VOSpilot to obtain a QR code travel authorisation. They are then automatically checked-out when they leave the vehicle. A mix of GPS, Bluetooth beacons and motion tracking is used for trip recognition.
The best ticket price is then calculated on a weekly basis, so that passengers do not need to work out whether a single, day or weekly ticket would be their cheapest option.
The main contractor for the CiBO project is software company highQ, which has supplied the customer data management system and is responsible for the monthly collection of customers' payments. The technology is being implemented by Siemens Mobility companies eos.uptrade and HaCon.