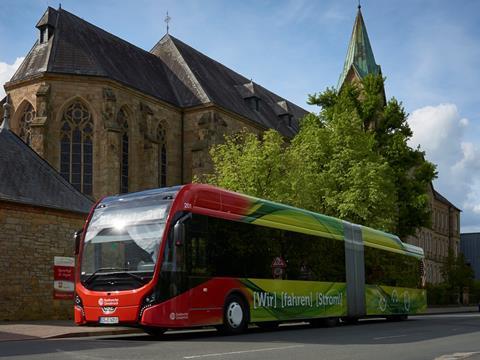 GERMANY: Following testing, municipal operator Stadtwerke Osnabrück has gone live with Check-in/Be-out bus ticketing using the YANiQ app based on the XiXo platform.
Passengers swipe to check in, and the system automatically logs them out when they alight. Users receive a bill at the end of the month, with the best price guaranteed.
'Beacons in our buses communicate via Bluetooth with the passengers' smartphones', explained Maik Blome, YANiQ Project Manager at Stadtwerke Osnabrück. 'Our transmitters also use the GPS data and motion technology of the users' phones. These three components enable us to obtain exact data for the distances travelled, including potential transfers.'
XiXo is a produced by Siemens Mobility subsidiaries EosUptrade and Hacon, and it is also available for Check-in/Check-out implementations without beacons, or for fully automated Be-in/Be-out implementation.
Software company highQ was the main contractor for the roll-out in Osnabrück.