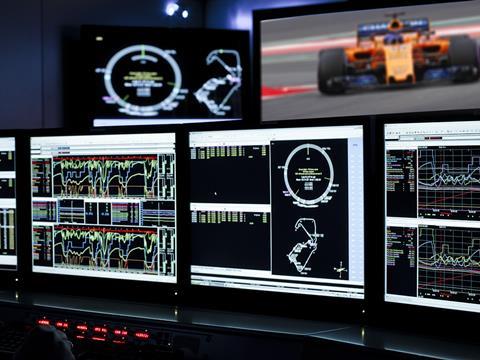 SINGAPORE: Transport operator SMRT and McLaren Applied Technologies are to work together to explore the potential for rolling stock to be equipped with data collection, logging and analysis technology originally developed for Formula 1 cars. A proof-of-concept deployment on a metro train in Singapore is planned for this year.
On a Grand Prix season the McLaren race team captures more than 12 billion real-time data points from over 300 sensors embedded on its two race cars. This enables the team to perform detailed analysis and take informed decisions to optimise performance. SMRT said rail was similar to motorsport in that space is at a premium and technology must be robust.
'SMRT has been pioneering the development of rail condition monitoring sensors to minimise disruption of our commuter service, optimising train performance by detecting and rectifying emerging defects early', said SMRT President & Group CEO Desmond Kuek when the memorandum of understanding with McLaren was announced on March 15. 'We look forward to collaborating with McLaren Applied Technologies to elevate this capability further, combining our engineering expertise in rail with their proven capabilities harnessing sensors, telemetry and software in motorsport'. He said future fleet-wide adoption was expected to bring 'enhanced safety, reliability and comfort'.
Paul Bebbington, Director of Public Transport at McLaren Applied Technologies, said the collaboration was 'part of our commitment to the global transport industry and its customers to digitally enable future transport systems and accelerate the path to intelligent mobility.'