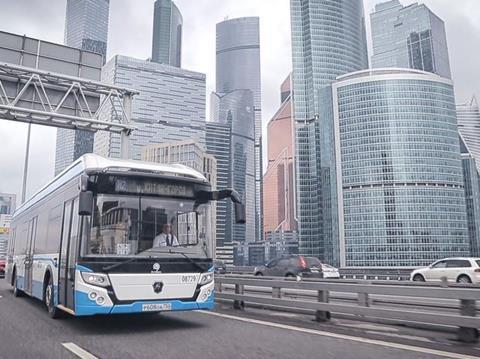 RUSSIA: GAZ Group is developing an upgraded prototype electric bus, which it expects to deliver to Moscow for testing in December. This follows new requirements for electric buses put together by city operator Mosgortrans following tests of various vehicles.
Mosgortrans tested a prototype GAZ electric bus between January and July, during which it covered 13 500 km. The average distance covered per day was 220 km with two charges or 100 km with one charge. The batteries were charged overnight for 2 to 3 h or during the day in 20 to 60 min 'fast charging' sessions. The upgraded prototype will have lithium-titanate batteries, which will allow fast charging that takes between 4 and 20 min.
Developed by GAZ and MGTU Bauman, the prototype is based on the low-floor LIAZ-5292 design. It has a capacity of 75 passengers, including 27 seated and three wheelchair spaces. It is equipped with air-conditioning, CCTV and Glonass navigation equipment. In the five months of passenger-carrying tests, it carried a total of 25 000 passengers.
GAZ Group has signed an agreement with energy network operator Rosseti to jointly develop hybrid and electric vehicles, as well as co-operate in the establishment of electric transport infrastructure.