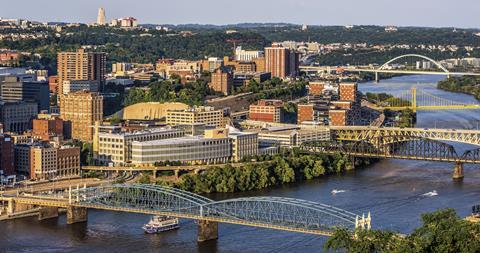 USA: Pittsburgh transport agency Port Authority of Allegheny County and ticketing technology companies Masabi and Transit have launched the three-month pilot phase of the Ready2Ride mobile ticketing system, ahead of the full launch later this year.
More than 600 Masabi Justride validation devices have been installed across the bus network, with light rail to follow. Passengers can use either the Ready2Ride or Transit app, tapping their phones on the validators which will scan the dynamic and encrypted mobile passes and identify a ticket as valid for use.
The validators powered by Masabi's Justride Inspect software can also be used to read NFC and contactless EMV cards, giving Port Authority the flexibility to turn on account-based ticketing.
'Port Authority passengers already rely on Transit to plan their next trip and track their ride in real time. Adding the ability to buy transit fares gives riders everything they need in one app', said David Block-Schachter, Chief Business Officer at Transit. 'Mobile ticketing makes boarding smoother and reduces close physical contact, helping everyone stay a little bit safer.'
Port Authority CEO Katharine Kelleman said the project was a big step toward modernising the city's transport system. 'We had originally planned to deliver Ready2Ride in 2020 but, with the onset of the Covid pandemic, we were delayed', she said. 'Now more than ever, riders need a secure, contactless method of payment and the assurance that they are riding in a Covid-safe environment, making this a very timely roll-out.'