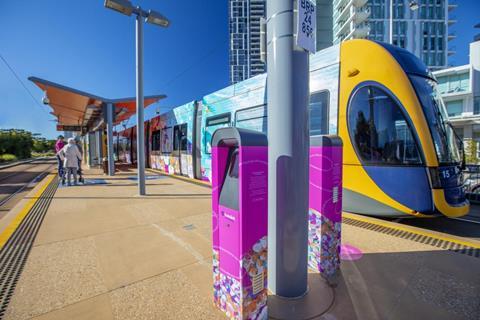 AUSTRALIA: Cubic Transportation Systems has begun the installation of contactless payment equipment on the Gold Coast light rail line in Queensland under a A$371m smart ticketing contract awarded by regional transport agency TransLink.
Passengers will be to able pay for travel using smartphones, credit and debit cards and smart watches later this year.
'This system will modernise the way that customers engage and pay for public transport', said Matthew Longland, Deputy Director-General of the Queensland Department of Transport & Main Roads and head of TransLink. 'With more ways to pay, such as credit card or smart devices, tap and go is very convenient, particularly for people who might not use public transport very often.'
Tom Walker, Senior Vice-President & Managing Director of Asia-Pacific at Cubic Transportation Systems, said the validators being installed at light rail stops would be 'a radical leap forward with a sleeker, more stylish design and bigger screens that are easier to use'.