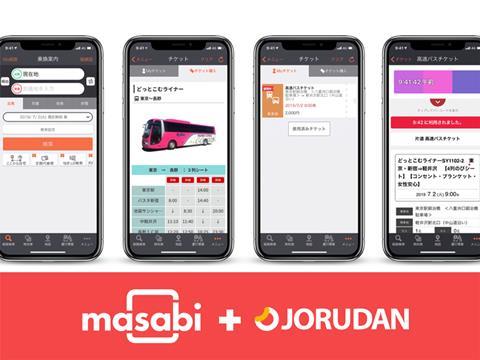 JAPAN: Masabi's Justride SDK mobile ticketing purchasing platform has been integrated with the Jorudan journey planning and travel booking system, which has more than 10 million users throughout Japan.
The initial deployment covers Syoei Express Bus Co services, with passengers able to buy tickets directly from Jorudan's Norikae Annai app and then store visual and barcode tickets in their phone's virtual wallet.
Further operators are to be added in the coming months, with Masabi saying Justride SDK can be used by authorities and operators of all sizes to rapidly deploy mobile ticketing to provide an established user base with 'a truly integrated passenger journey experience' including journey planning, real-time information and ticketing.
'Our vision has always been to make it easier for people to get around cities using a bus, train, tram or ferry, all over the world', said Masabi CEO Brian Zanghi on July 3. 'We are extremely excited to expand our ticketing offering to Japan and to be integrated into the country's leading journey planning app.'
The NEORide consortium of seven transport agencies in the US state of Ohio have announced EZFare, a cashless mobile ticketing and fare payment app developed with Masabi which is to be rolled out by October. Other agencies are expected to join, and EZfare tickets will also be available within the Transit real-time journey planning app.