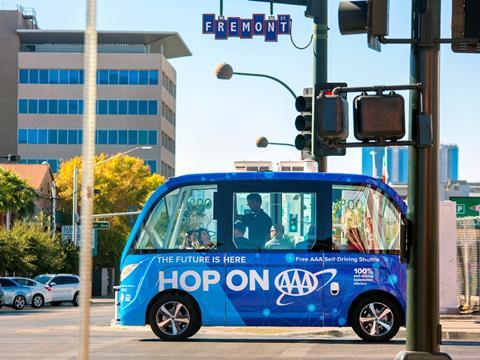 USA: The American Automobile Association has launched a one-year pilot of a driverless shuttle running in mixed traffic in central Las Vegas. Free rides will be offered on the 970 m circular route in the Innovation District, with three stops on Fremont Street and Carson Street.
The AAA's Northern California, Nevada & Utah branch is sponsoring the pilot, which would study how a driverless vehicle interacts in a live traffic environment and how other road users react to it. AAA said that it also will also survey passengers 'in order to understand why a large percentage of consumers remain wary of driverless technology, and whether a personal experience changes their perception'.
Partners in the project include the city of Las Vegas, the Regional Transportation Commission of Southern Nevada and Keolis North America, which will operate and maintain the shuttle. The trial builds on a driverless shuttle project launched by Keolis in Las Vegas earlier this year.
Navya has supplied an Arma electric vehicle. The shuttle with capacity for eight passengers is equipped with LiDAR, GPS and cameras, and will communicate with traffic lights on its route to improve safety and traffic flow.
During the first day of testing, the vehicle was 'grazed' by a delivery truck. The city of Las Vegas said: 'The shuttle did what it was supposed to do, in that its sensors registered the truck and the shuttle stopped to avoid the accident. Unfortunately the delivery truck did not stop and grazed the front fender of the shuttle. Had the truck had the same sensing equipment that the shuttle has the accident would have been avoided.'