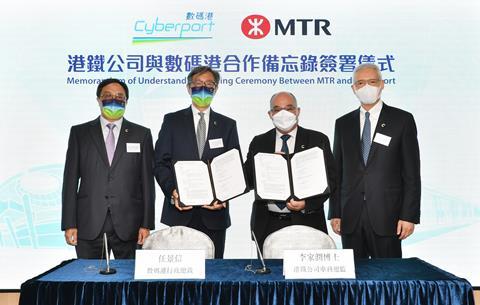 CHINA: MTR Corp and Hong Kong Cyberport Management Co Ltd have signed a memorandum of understanding for a two-year collaboration to invest in digital technology start-ups.
The MTR Lab and Cyberport Macro Fund will select start-ups from Cyberport's ecosystem that have potential and suit MTR's rail and property business needs in six areas:
railway technology;
smart city;
financial and data services;
Mobility-as-a-Service;
new mobility modes
new retail.
MTR Corp has reserved more than HK$300m for investment in start-ups, and further funding is to be allocated.
MTR Corp said the MoU signed on June 21 marks a major step in its development of alliances with the innovation and technology sector to offer its customers smarter services and contribute to the development of Hong Kong as a smart city.
Chairman Dr Rex Auyeung said MTR Corp 'actively adopts technology and digitalisation in all of its services under our corporate strategy "Transforming the Future"', and 'fully supports the vision of Hong Kong's technological development and endeavours towards developing Hong Kong into a smart city.'
He said 'we also envisage that it will offer more opportunities for the young generation to unleash their creativity and innovative power.'
Cyberport Chairman Simon Chan said 'smart mobility plays an indispensable part as Hong Kong charges ahead in its smart city development, and railway networks are key to driving socio-economic growth.'
He said Cyberport 'has endeavoured to nurture the innovative community with Smart Living and Smart Mobility solutions, enhancing the development of Hong Kong's railway services and smart facilities at residential properties and shopping malls along the railway lines.'