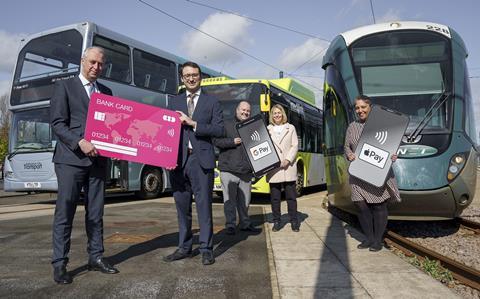 UK: The final stage of the Nottingham Contactless scheme has gone live, with multi-operator daily fare capping now available on NET trams, Nottingham City Transport buses and Linkbus services operated by CT4N.
The project has been developed by Nottingham City Council and the three transport operators using £2·7m from the Department for Transport's National Productivity Fund and Transforming Cities Programme.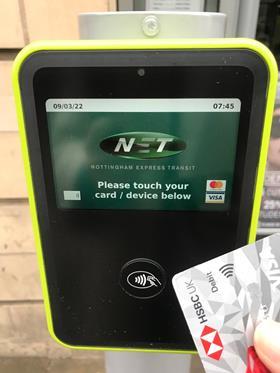 Phased deployment began on NCT buses in 2020, using technology supplied by INIT. Passengers tap a contactless payment card, smartphone or smartwatch on a bus or tram validator before every journey. INIT's back office then aggregates their journeys throughout the day and charges for a single transaction. The multi-operator fare capping at the price of a day ticket guarantees that passengers pay the best price regardless of which operators they use or how many journeys they make.
'People don't need to carry change or worry about knowing the fare', said NET's Chief Operating Officer, Andrew Conroy. 'It helps people to make whole journeys across different transport operators effortlessly.'
Jens Mullak, Managing Director of INIT, said contactless payment 'makes public transport more attractive', which was 'particularly important as our sector tries to attract people back to our trams and buses', following the pandemic.
Expansion of the system across the wider city region and to cover more operators is envisaged. The city council is working with DfT and regional partners including Transport for the West Midlands and Midlands Connect to integrate all operators including local bus company Trentbarton and various train operating companies.