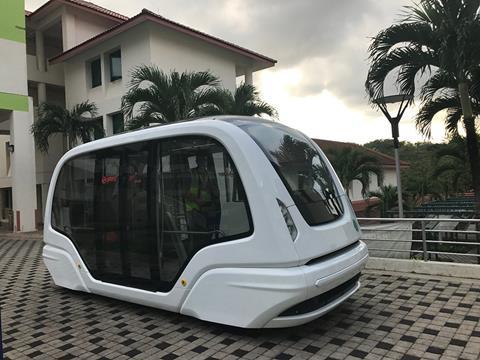 SINGAPORE: Dutch autonomous vehicle technology company 2getthere has signed a memorandum of understanding to deploy its Group Rapid Transit autonomous vehicles at the Nanyang Technological University campus in partnership with SMRT Services.
The bidirectional GRT vehicles use 'magnetic pellets' on the road for navigation and have a maximum speed of 40 km/h. A 6 m long and 2 100 mm wide vehicle weighs 3 500 kg and can carry eight seated and 16 standing passengers.
Preliminary GRT tests have been undertaken on a 350 m route between two NTU halls of residence since November last year. More widespread testing on the campus is now expected to begin in the last quarter of this year, with the vehicles connecting halls of residence with the main academic areas. Initial ridership is expected to be 200 to 300 passengers per day.
It is envisaged that the trial would gradually be expanded campus-wide, operating alongside other autonomous vehicles that have been on test since 2012.
The collaboration agreement includes research to improve autonomous vehicle technologies by making more use of use of artificial intelligence, developing sensors and algorithms and improving fleet management.
The trials form part of a mobility-as-a-service collaboration between NTU, SMRT and government industrial agency JTC which got underway in September. Multiple modes of transport on NTU's campus and the CleanTech Park area, including shuttle buses, bicycle sharing, electric scooters and autonomous GRT, can be accessed using a single app called Jalan-jalan ('going for a walk') which was developed by MobilityX.
'NTU has ample experience with autonomous vehicles and knows exactly what it wants and what it doesn't want, in terms of availability, reliability, quality, safety and AV features such as comfort and user experience', said Sjoerd van der Zwaan, Chief Technology Officer of 2gettherem when the MoU was announced on April 16. 'In combination with SMRT's operations expertise, all key ingredients are present to ensure a successful implementation of our AVs at NTU.'