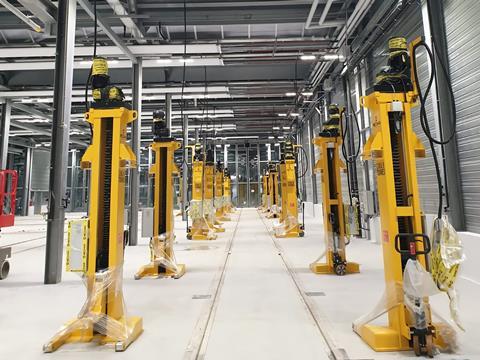 FRANCE: The depot for the Paris Tram 9 project is being equipped with a set of 18 lightweight lifting jacks and a bogie turntable supplied by CIM and its UK subsidiary Mechan.
The 10 km route T9 with 19 stops will connect Paris-Porte de Choisy to central Orly via Ivry-sur-Seine, Vitry-sur-Seine, Choisy-le-Roi and Thiais. Scheduled to open in 2021, it will be operated by a fleet of 22 Alstom Citadis X05 trams.
The six-tonne jacks for the depot at Orly have been designed specifically to meet the requirements of operator Keolis. They are derived from Mechan's lightweight range, with bases designed for ease of movement while retaining all of the features of the standard jacks.
The 8 tonne bogie turntable is a bespoke design, which will be located between two tracks and used to transfer bogies to a high-pressure cleaning room.
'This is our second joint project with CIM and it is a pleasure to be involved in equipping such a high-tech tram depot', said Mechan Sales Manager, Lindsey Mills. 'Our lightweight jacks are gaining popularity rapidly, as users appreciate the flexibility they offer, reinforced by our usual commitment to safety and reliability. The T9 order will showcase our high quality, bespoke products to a new audience in France and we look forward to seeing them in action.'