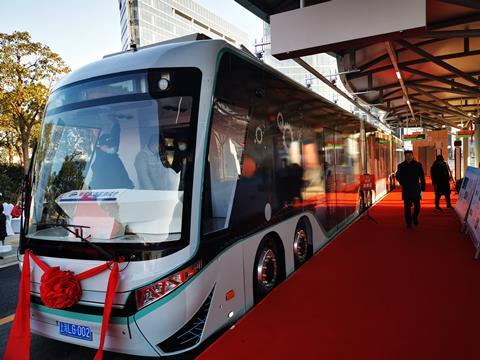 CHINA: An 'intelligent digital-rail transport system' has begun trial operations in the Lingang New Area of Shanghai.
The 21·7 km demonstration Line T1 links Dishui station on metro Line 16 to Nicheng, with nine stops. It is expected to be fully operational by June.
The medium-capacity iDRT technology has been developed by Shanghai Electric, with the Digital Rail Tram vehicles being manufactured by CRRC Nanjing Puzhen.
An onboard control system guides the vehicle using data which underfloor sensors collect from magnetic markers in the road surface.
The 30·5 m long three-section vehicles have a capacity of 302 passengers and operate autonomously at up to 70 km/h. The target speed is adapted to suit the location, weather conditions and service optimisation needs.
Shanghai Electric says iDRT offers a shorter construction period and requires half the investment of a conventional tramway, and is suitable for deployment on existing roads.
The vehicles are initially being powered by lithium ion batteries which are recharged at stops, but conversion to hydrogen power is planned.
A six-line network totalling 105 km is under development.