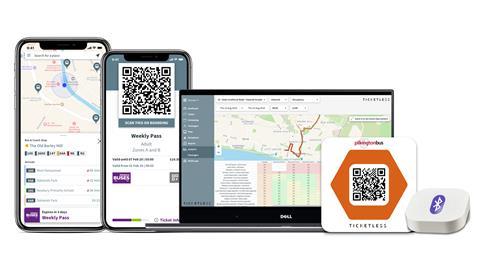 UK: UrbanThings has raised a further £455 000 to support the development of its travel information, ticketing and customer insight platform, taking the total to £1·5m.
'This fundraise will allow us to accelerate the development of our demand-responsive transit and smart mobility platform allowing transport operators to improve their profitability and increase their ridership', said CEO Carl Partridge on July 21.
The initial capital was raised from an existing investors and was matched by the UK government's Future Fund investment scheme which aims to stimulate investment in technology.
UrbanThings' mobile-ticketing and real-time travel information software supports more than 130 million passenger-journeys each year in three continents.
Functions of the passenger app and cloud-based backend include automatic vehicle location, live vehicle loading and highlighting under and over-served routes.
The system has been deployed by customers including Ipswich Buses in the UK and the city of Detmold in Germany. More recently it was used by Transport for London on routes serving the Nightingale temporary hospital set up as part of coronavirus measures. The next deployment will be for Newport in Wales.