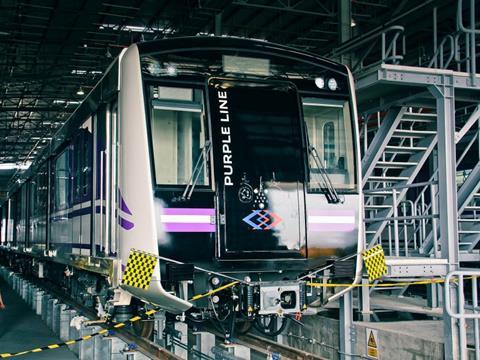 THAILAND: On December 14 concessionaire Bangkok Metro Public Co started test running on the first section of the Purple Line in Bangkok, in the presence of Prime Minister Gen Prayut Chan-o-cha.
The 23 km elevated route linking Bang Yai in northwest Bangkok to Tao Pun in the city centre is due to open for revenue service on August 12 2016. There are 16 stations, including four park & ride sites, and a depot at Bang Phai at the northern end of the line.
A 82·6bn baht 30-year PPP concession was signed in September 2013 between Mass Rapid Transit Authority of Thailand and BMCL. Later that year JR East subsidiary Japan Transport Engineering Co was awarded a contract to supply 21 three-car trainsets. Six have so far arrived in Bangkok, with the remainder due by February.
The second phase of the line was approved by the government earlier this month. This would extend the route 19·8 km south from Tao Pun to Rat Burana. The extension would have 16 stations, running underground to Mahaisawan and on an elevated alignment beyond that. The project cost is estimated at 91·7bn baht. A further extension from Rat Burana is envisaged in the longer term.
Later that day Chan-o-cha led celebrations to mark the completion of the first tunnels bored under the Chao Phraya River. The 200 m twin-bore tunnels between Issaraphab and Sanam Chai stations form part of the Blue Line extension. The tunnel boring machine supplied by Terratec was launched on March 9.
The 27 km extension will turn the Blue Line into a ring with a branch from Tha Phra to Bang Khae. Work is divided into two packages. A 14 km section between Hua Lampong and Bang Khae will have four underground and seven elevated stations, as well as the tunnel under the river. The 13 km Bang Sue – Tha Phra section would run on an elevated alignment, crossing the river on a bridge, and will have 10 stations. Construction of the extension is 70% complete, and opening is planned for June 2019.
A detailed feature article on metro projects in Bangkok appears in the June 2015 issue of Metro Report International, available to subscribers in our digital archive.