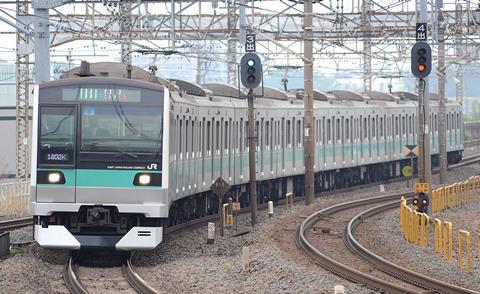 A JR East Series E233-2000 EMU approaches Kanamachi on a Joban Line (Local) service. (Photo: Toshinori Baba/Wikipedia)
JAPAN: Automatic Train Operation is to be introduced on Tokyo's Joban Line (Local) services next year, East Japan Railway announced on October 8.
The railway plans to use ATO on the 29·7 km suburban section of the Joban Line between Ayase and Toride, which is served by all-stations trains that run through to and from Tokyo Metro's Chiyoda Line. These are operated by narrow-bodied Series E233-2000 EMUs, supplied by Tokyu Car in 2009-11. Together with the planned installation of platform screen doors at the intermediate stations, the introduction of ATO is expected to improve the safety and stability of train operations.
The ATO project forms part of JR East's 'smart train' programme, which covers various aspects of operations, maintenance service and safety. It is intended to give the operator more experience and data to inform the future introduction of driverless trains. The announcement follows experiments with automated train operation on the Yamanote Line earlier this year.
In 2013, JR East selected Thales to design a communications-based train control system with a view to replacing its ATC train protection system on the Ayase – Toride section of the Joban Line.