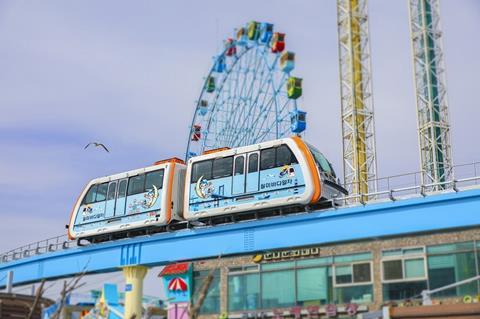 SOUTH KOREA: The Wolmi Sea Train monorail opened to passengers on October 8, following a ceremony led by Incheon Transportation Corp President Jeong Hee-yoon and Mayor Park Nam-chun.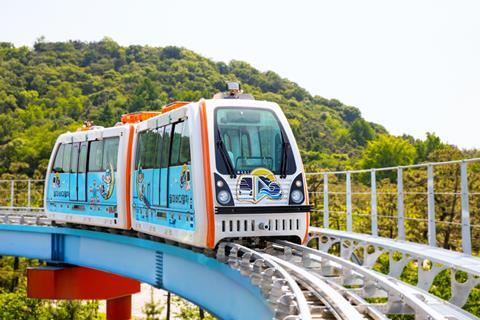 The 6·1 km single track elevated loop line around the former island of Wolmido has four stations at Incheon Station, Wolmi Park, Wolmi Culture Street and Wolmi Museum. The journey time for a complete circuit is 35 min.
The route serves various tourist destinations at the seaside resort. Jeong Hee-yoon hoped passengers would have 'memories of their precious trips with the colourful leaves of Wolmi Park in autumn.'
The line was built using Urbanaut monorail technology. This features rubber tyred driving wheels running on top of a narrow concrete guideway, with the vehicles stabilised and guided by a central guide mounted on top of the beam. This is intended to enable the use of smaller and lighter beams than straddle monorail designs. The two-car trainsets were built by Rowin.
The monorail was first completed in 2009, but the start of services was repeatedly delayed because of various safety concerns, including the loss of a wheel during testing.