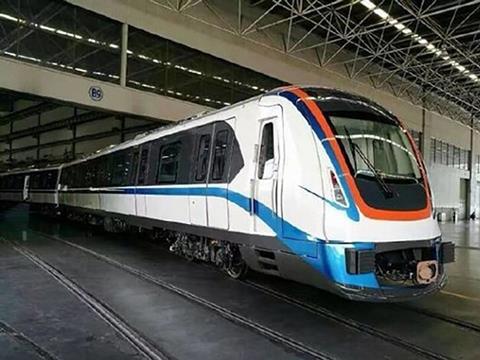 CHINA: Trial passenger operation on the initial phase of the first metro line in the western city of Urumqi began on July 9.
The 16·5 km Line 1 runs entirely underground from Balou in the city centre to the international airport, with 12 stations. CRRC Zhuzhou has supplied 27 Type A trainsets with four motor and two trailer cars and a maximum design speed of 80 km/h. Multi-lingual passenger information systems are provided.
The limited trial service will operate between 11.00 and 15.00 until July 15, when operating hours will be extended until 17.00 pending the launch of the full service at the end of July.
Beijing Railway Construction & Management Co began construction of Line 1 in March 2014, with 40% of the 19·4bn yuan cost being met by the national government. An 10 km extension south from Balou to Santunbei with nine stations is scheduled to open by the end of this year, and a northern extension in 2023.
The 19·4 km Line 2 with 16 stations is under construction for opening in 2020. The 21·2 km Line 3 with 18 stations and the 20·9 km Line 4 with 16 stations are scheduled to follow in 2021.