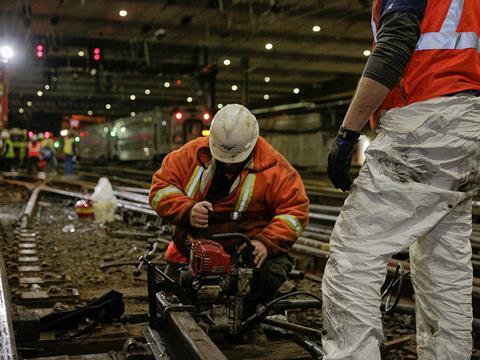 USA: Andrew Cuomo, Governor of New York State, wrote to President Donald Trump on May 21 requesting that the federal government treat the ongoing infrastructure and operational difficulties at New York Penn Station 'as an emergency situation' and provide funding for short- and long-term enhancements of the station.

Two derailments within three weeks in March and April have shone a light on the deteriorating state of the railway infrastructure at North America's busiest passenger station. Subsequent incidents, including a leak of sewer water from the ceiling and a mass panic during a security alert, have highlighted the station's design shortcomings.

'The negative impact of the state of disrepair at Penn Station has reached a tipping point', Cuomo wrote. 'The recent track breakdowns and mechanical problems have made the situation intolerable', he added. He also reiterated a previous request that a private-sector asset manager take control of at least the passenger-facing areas of the station from national passenger company Amtrak.

As a response to the derailments, Amtrak intends to bring forward planned renewal of switches, crossings and other trackwork. This will require significant engineering blockades this summer and next. According to Cuomo, this could reduce peak-hour capacity at the station by up to 20%. This would cause significant disruption to New Jersey Transit and Long Island Rail Road, the commuter rail operators which share Penn Station with Amtrak and account for the majority of its footfall.

In the longer term, Cuomo urged the president to expedite funding for the trans-Hudson Gateway Programme to add capacity on the Northeast Corridor between New Jersey and New York. This calls for a southern expansion of Penn Station, complementing the work already underway to convert the Farley Post Office building opposite the station into an additional concourse and entrance for Amtrak passengers.

'We could build a state-of-the-art, secure, world-class transportation hub. This would fit with your proposal for $1tr plan for federal infrastructure investments to rebuild America, and urge you to consider this critical request as you and Congress begin a dialogue on federal budget priorities', Cuomo wrote.