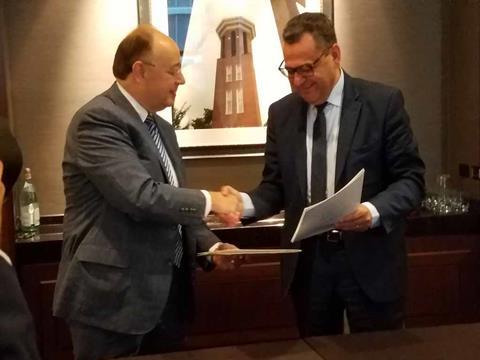 NORTH AMERICA: UITP and APTA signed a memorandum of understanding on September 25 to strengthen their relationship and future co-operation.
The two organisations will work together on areas of mutual benefit to their members and organise joint training programmes. The first topics identified for co-operation are electric buses and new mobility services.
'The agreement will strengthen the bond between our two member-led associations, further highlighting not only APTA's vastly important presence in American urban life, but also UITP's global reach', said UITP Secretary General Mohamed Mezghani.
'We have identified many areas for concrete exchange of best practices and know-how from electrification to addressing the evolving mobility environment', added APTA CEO Paul Skoutelas.
The next edition of the UITP Metropolitan Railways Assembly will take place in conjunction with the third International Rail Forum for North America in Los Angeles on October 10-12.