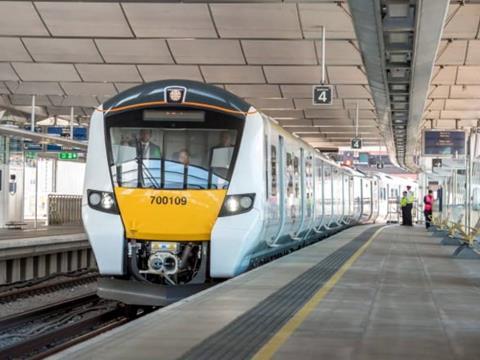 UK: Secretary of State for Transport Chris Grayling says he wants 'all signal renewals and upgrades – from next year – to be digital, or at least digital-ready', in order to make the best use of the available funding.
Speaking an event in York on May 10 to launch the latest digital railway strategy, Grayling joined Network Rail Chief Executive Mark Carne in committing to ensure that all new trains and signalling procured from 2019 would be ETCS-equipped or at least 'ETCS-ready'. For trains, this would mean having the necessary wiring in place for retrofitting the onboard equipment. For infrastructure, conventional multiple-aspect signalling would be redesigned to build in the future capacity enhancement benefits.
The cross-London Thameslink central core already has ETCS Level 2 overlaid on conventional fixed-block signalling, and the track circuits in each block are subdivided, so that ETCS-fitted trains can run at shorter headways (RG 9.15 p33). Starting with the Crewe and Feltham resignalling projects in Control Period 6 (2019-24), future schemes would also be provided with intermediate blocks, ready to boost capacity at no extra cost when trains are able to start operating in Level 2.
In the longer term, NR estimates that the current cost of £420 000 per Signalling Equivalent Unit could be reduced to around £300 000 with Level 2. During the migration phase, DfT says any additional costs for making the network ETCS-ready would be taken into account when assessing the business case for resignalling projects.
Invitations to tender for future replacement franchises will specify that any new trains to be procured must be 'ETCS ready', with the costs to be written into the franchise agreement. While most new fleets now on order or being delivered have provision for ETCS, Railway Gazette understands that there are some exceptions.
Grayling suggested that York could be one of the first cities to benefit from a 'digital inter-city railway on the trans-Pennine route'. NR is currently reviewing its proposals to electrify and enhance this east-west corridor, which is now expected to receive a series of upgrades rather than a total modernisation. Grayling is understood to have told NR that he wants to see physical works starting in April 2019.
NR's ETCS roll-out strategy for the next three control periods up to 2034 envisages that the main emphasis during CP6 will be on line-of-route deployment. Top priority is the East Coast Main Line south of Peterborough where funding has already been provided for development work. Following approval, ETCS would be implemented in a series of 'sub-tranches' working outwards from the two-track bottleneck over Welwyn viaduct. Most of the trains which will be running south of Peterborough by then are already ETCS-ready or fitted. Further rolling stock fitment would not be required until the resignalling extends further north.
The trans-Pennine route upgrade is part of the CP6 programme, along with signalling renewals at Crewe linked to the interface between HS2 and the conventional network, and the large renewal scheme at Feltham which provides the basis for the roll-out of ETCS on NR's Wessex route.
During CP7 NR says the priority will switch to a 'regional' deployment, mainly covering a broad band of lines on either side of the trans-Pennine corridor plus Scotland. However, Carne expects that 'the whole track' up to 65 km from London Waterloo 'will be ETCS within 10 years, providing the potential for a metro-style service into Britain's biggest commuter station'.
Finally, CP8 would see the emergence of a national ETCS network. According to Carne, 'within 15 years, we could expect 70% of journeys to be ETCS and Traffic Management enabled'. The overall programme is to be developed in detail by 2021, ready to feed into the regulatory funding process for CP7 and CP8.