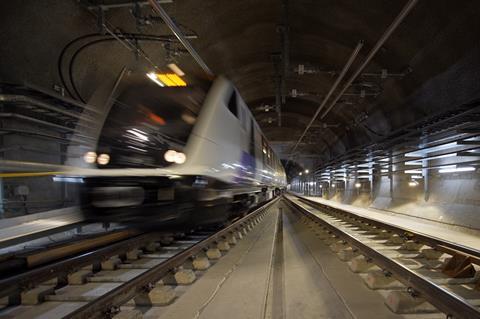 UK: Trial running in the Crossrail tunnels under central London began on May 10, ahead of the launch of Elizabeth Line services which is now planned for the first half of 2022.
Crossrail Chief Executive Mark Wild said this was 'an incredibly significant moment', marking the point where the focus shifts to commissioning of the new railway.
The Trial Running programme is intended to demonstrate that the new railway is safe and reliable, as well as meeting capacity and performance requirements. The line is initially carrying four empty trains each way per hour, but the number will be steadily increased to the level of the future operational timetable. The next stage in the commissioning process will be Trial Operations, which is due get underway later this year; this will include train and station evacuation exercises.
'Reaching this crucial project milestone of running trains through the tunnels is a real testament to the teams who have worked so hard to get the railway ready for trials', said London's Transport Commissioner Andy Byford on May 12. 'There is still much to do, but I know everyone is pulling together. When we open the Elizabeth Line it will make a real difference to those travelling across London; increasing capacity, transforming accessibility and providing a huge economic boost.'
The Tottenham Court Road station has now been handed over to Transport for London by contractor Laing O'Rourke. This is the third of the central London stations to be handed over, following Farringdon in March and Custom House last year. It is expected to become one of London's busiest stations, offering an interchange with London Underground's Northern and Central lines. The Elizabeth Line stations at Woolwich, Liverpool Street and Paddington will be the next to transfer to TfL.