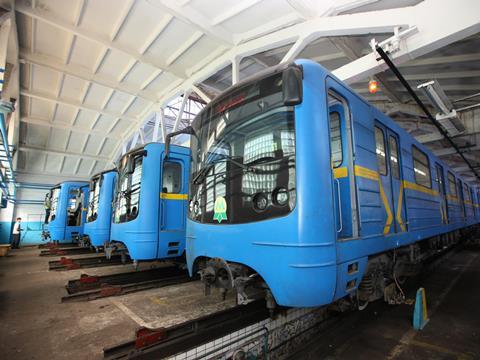 The first Kyiv metro Line 1 cars arrived at KVSZ's workshops for modernisation last month. KVSZ is modernising 50 Line 1 cars in conjunction with Itochu, J-TREC, Mitsubishi Electric, Fuji Electric and Knorr-Bremse; this is the second phase of modernisation following the completion of phase 1 in 2014.
A 7·4 km extension of the driverless Line M5 of the Milano metro from Garibaldi to San Siro Stadio opened on April 29. The intermediate stations are not yet open.
Hyderabad metro has started test running on Stage 2, between Miyapur and Kukatpally Housing Board.
Noida Authority and Ghaziabad Development Authority have drawn up separate plans for tram lines in the Delhi satellite town.
Sofia metro Line 1 opened a 2·8 km southern extension from Mladost 1 to Business Park with two intermediate stations on May 8.
The modernisation of the north-south tunnel of the Berlin S-Bahn has been completed. Siemens has upgraded the automatic train protection by replacing mechanical train stops with Eurobalises.