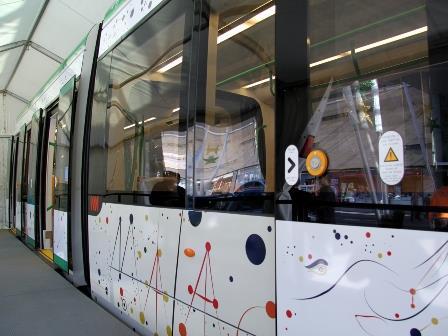 SPAIN: The first impression of the Urbos 3 vehicle which will work the light metro network in Málaga when it opens in November next year was revealed on November 18 when a mock-up was unveiled at María Zambrano station. The event was attended by María Gámez, official representative of Andalucía's regional government, José Luis Nores, head of the regional Railway Agency, and Enrique Salvo, director of the Málaga metro project.

CAF is supplying 14 bi-directional Urbos 3 cars with five articulated sections and three powered bogies to operate the 13·5 km two-line network now under construction in Málaga. The 100% low-floor vehicles will be 32·4 m long and 2 650 mm wide with capacity for 221 passengers, including 52 seated, and two wheelchair spaces. Maximum speed will be 70 km/h.

The two-section mock-up on display is 13·8 m long and 2 800 mm wide and includes a driving cab. The external livery designed by Turin-based Italdesign Giugiaro was inspired by the works of Picasso, who was born in Málaga, and includes elements symbolising the city's history and culture, such as the Phoenician eye painted on local fishing boats, and the Taurus constellation, similar in shape to the network map.

The LRVs will be assembled at the CAF Santana factory in Linares, near Jaén. Deliveries will start in April next year for completion in March 2012. The mock-up will be on display until January 15 2011.