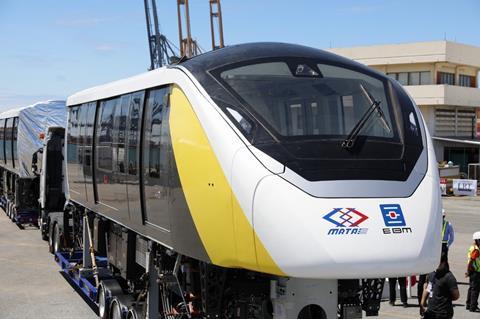 THAILAND: Prime Minister Prayut Chan-o-cha joined a ceremony at the port of Laem Chabang on October 1 to mark the arrival of the first monorail trainsets for the Bangkok's future Pink and Yellow lines.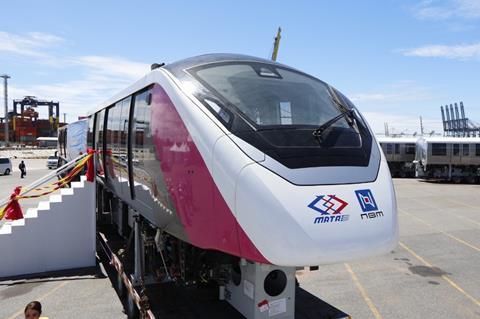 He was joined at the celebrations by BTS Group Chairman Kiri Kanchanabanch and executives from group subsidiaries Northern Bangkok Monorail Ltd and Eastern Bangkok Monorail Ltd, as well as representatives from the Mass Rapid Transit Authority, Sino-Thai Engineering Co, as well as Canadian Ambassador Sarah Taylor.
The two orbital lines in the north and east of the city are being developed under 30-year PPP concessions awarded in December 2016 to the BSR joint venture of BTS Group Holdings, Sino-Thai Engineering & Construction and Ratchaburi Electricity Generation Holding.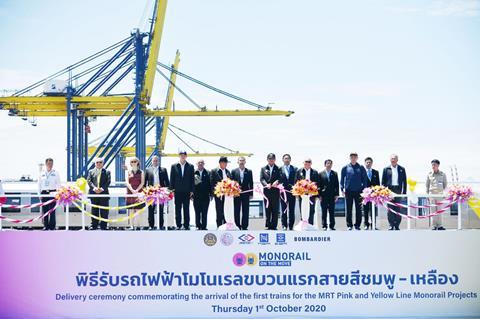 Scheduled to open in 2022, the 34·5 km Pink Line will link Khai Rai and Min Buri, while the 30·4 km Yellow Line will connect Lad Phrao and Samrong.
The Innovia Monorail 300 vehicles with a maximum speed of 80 km/h were ordered from Bombardier Transportation in August 2017 at a cost of 50bn baht, under a package which also includes the Cityflo 650 train control system. Developed from the Canadian design by Bombardier's Bangkok Engineering Centre, the vehicles are being assembled at the Puzhen Bombardier Transportation Systems factory in China. NBMC is due to receive 42 four-car sets for the Pink Line, while EBMC is buying 30 for the Yellow Line.
'The on-time delivery of our first Innovia 300 monorail vehicles for Thailand marks an exciting milestone', said Claudio Tiraferri, Managing Director for Bombardier Transportation in Thailand. He added that the project 'reflects our strong collaboration between our customers, our PBTS joint venture and our highly-skilled, 600-strong local team'.