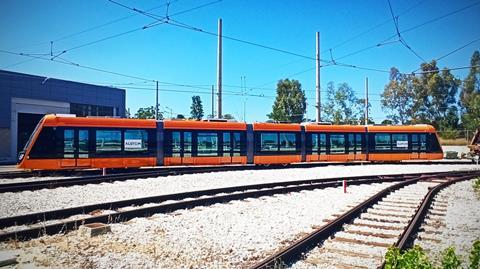 GREECE: Alstom has delivered the first two of 25 Citadis X05 trams ordered by Athens transport agency Attiko Metro.
Under the contract awarded in ordered in July 2018 Alstom is responsible for the on-site testing, training and warranty services, as well as the provision of spare parts. Dynamic testing is scheduled to start this month, ahead of entry into passenger service in February 2021. Deliveries are expected to be completed by the end of May 2021.
These are the first trams which Alstom has sold to Greece, and they follow the 28 metro trains it delivered in early 2000.
The five-section trams are 33 m long, with a capacity of 294 passengers and double doors along the full length of the vehicle to provide enhanced accessibility.
The new trams will supplement Attiko Metro's existing fleet of AnsaldoBreda Sirio trams. Alstom said the Citadis X05 has windows covering 20% more of the vehicle, as well as 'soft, homogeneous' LED lighting, individual seats and large passenger information screens.
The latest version of the Citadis X05 range has features designed to provide a 25% reduction in energy consumption, including permanent magnet motors and 'optimised' heating, ventilation and air-conditioning.