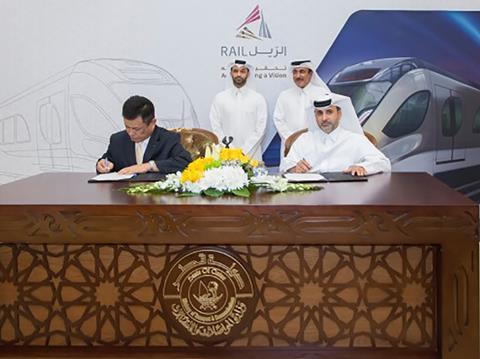 QATAR: Qatar Railways Co has awarded Kinki Sharyo a contract to supply a further 35 three-car driverless trainsets for the Doha metro project. The contract announced on October 4 takes the total order to 110 trainsets, which are branded Al Faras.
The additional vehicles have been ordered to increase the capacity of the metro, in particular when Qatar hosts the FIFA World Cup 2022 which is expected to attract more than a million visitors. They will also support future expansion of the network which Qatar Rail plans to undertake after Phase 1 of the project is complete.
Qatar Rail has also signed a co-operation agreement with taxi company Mowasalat to provide discounted last mile transport for metro passengers.
'This will encourage residents and visitors to use public transport even under severe weather conditions since the Karwa taxi can bring the customer to the Doha Metro station', said Khaled Kafoud, Mowaslat's Government Relations Manager 'This ensures connectivity and reduced waiting time besides making the overall journey smooth and pleasant. This is likely to change the culture of dependency on private car usage and contribute to reducing traffic congestion.'