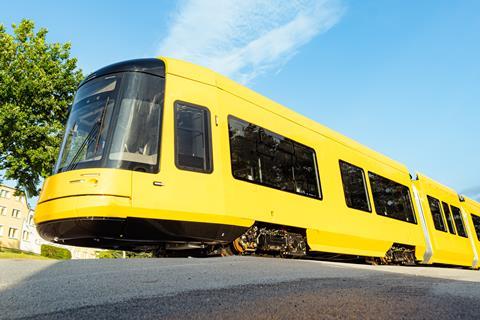 GERMANY: Dresden transport operator DVB and Alstom have unveiled the first NGT DX DD Flexity tram, with 2 500 people visiting Gorbitz depot over the weekend of October 2-3 to take a look at the vehicle.
Built to Dresden's unusual 1 450 mm gauge, with a maximum speed of 70 km/h, the five-section low-floor cars are 43·5 m long. The DX DD trams are the first in the city to be built to the international standard 2 650 mm body width, 350 mm wider than the existing Dresden fleet. Their introduction follows an extensive programme of track remodelling to accommodate larger vehicles.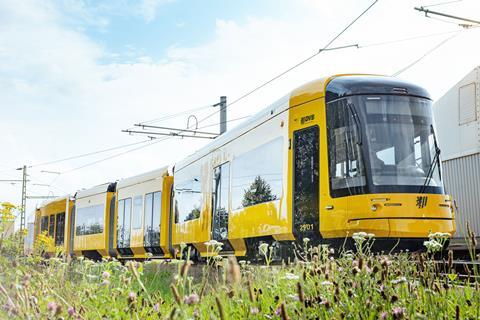 The €197m contract signed in August 2019 covers the supply of 21 single-ended and nine bidirectional vehicles, with provision for 24 years of maintenance and an option for 10 more trams. Testing of the first car is now underway, and it is expected to enter revenue service on Route 2 in spring 2022.
Bodyshells are being produced at the Görlitz plant, with final assembly at Bautzen. Subsuppliers include Lakowa, IMA Dresden, Lehmann Metaklltechnik and SIMU Fertigungs. ROBUR Prototyping & Materials produced a mock-up to support the design process.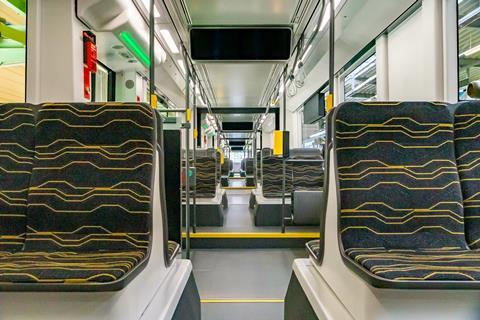 The wider vehicle has a capacity of 290 passengers with two multipurpose areas for wheelchairs, prams and bicycles. There are six double doors for rapid boarding and alighting, with LED strips inside and out which light up green when it is possible to board and red when it is too late. The vehicle has large windows, bright panelling and LED ambient lighting which adapts to the time of day and season. Information screens are visible throughout the tram.
The air-conditioning has been designed to adapt to onboard CO2 levels, helping the new trams to use 15% less energy for heating, air conditioning and lighting than existing designs.