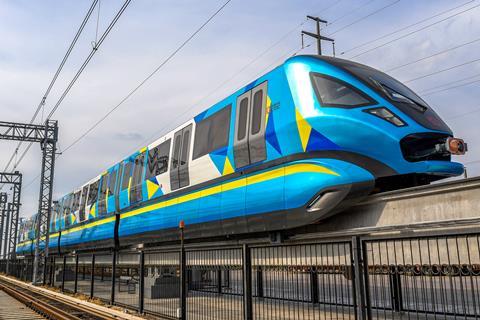 CHINA: Test running has started with a prototype 100 km/h monorail train being developed by CRRC Qingdao Sifang.
The elevated straddle monorail concept is aimed at suburban applications in large conurbations, with a projected cost of around a third of the price of a conventional metro line.
The company initially developed an 80 km/h vehicle in 2016, which was powered by permanent-magnet motors. The latest vehicle is faster and wider, and is intended to offer a comparable capacity to a Type B metro trainset.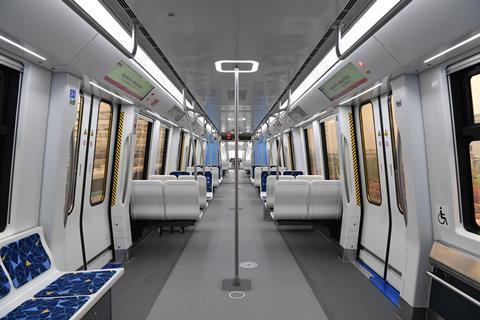 Equipped for driverless operation to GoA4, the streamlined new-generation trainset also uses a permanent magnet traction package, which is expected to reduce energy consumption by around 20% compared to earlier monorail designs.
Designed for a service life of up to 30 years, the vehicles have a body width of 3 098 mm, comparable to the cross-section of a Type A metro car. CRRC Sifang says a flexible configuration would allow trains to be formed of two, four, six or eight cars 'according to operational requirements', with a six car set carrying up to 1 400 passengers.
Operating on an 850 mm wide guideway beam, the vehicles are carried on two-axle bogies, providing the ability to negotiate curves as tight as 50 m radius and climb gradients of up to 6%. Moving the wheelsets to the outside of the guideway is intended to simplify replacement of the rubber tyres, reducing the whole life maintenance cost of the running gear by a third. The manufacturer suggests that the use of rubber tyres reduces running noise at maximum speed by more than 15 dB compared to steel-wheeled vehicles.
Each car has three pairs of doors to speed boarding and alighting. Internally, the passenger saloon has a wear-resistant floor covering and an anti-bacterial and anti-virus decorative coating. A 'nano-ceramic membrane' window is designed to minimiwse the transmission of ultraviolet and infrared radiation.