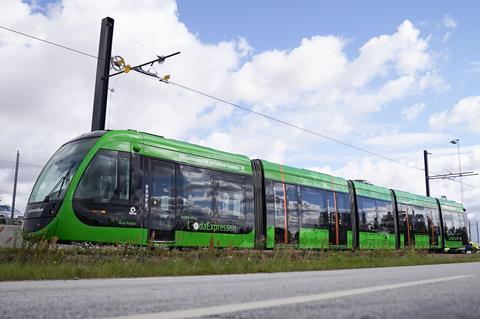 SWEDEN: CAF has delivered the first of seven trams ordered by transport authority Skånetrafiken for the light rail line in Lund which is now scheduled to be officially opened on December 12.
The tram was built at CAF's Zaragoza plant in Spain. It was delivered by sea from Santander to Göteborg, and then by road to Lund where arrived at the line's depot early on the morning of July 29.
'It is gratifying that the first tram has now arrived and that we can soon start test running', said Mayor Philip Sandberg. 'The people of Lund have been waiting a long time for the start of operation. With the tramway, we will get a climate-smart public transport system.'
The five-section, 33 m long CAF Urbos trams were ordered in 2018 under a contract which includes 10 years of maintenance and has options for more vehicles. Each one will have a capacity of 200 passengers, including 40 seated.
The 5·5 km Line 1 with nine stops will be operated under contract by Norwegian transport group Vy, connecting Lund Central station and the science village at Brunnshög in 14½ min. Ridership is predicted at around 40 000 passengers/day.