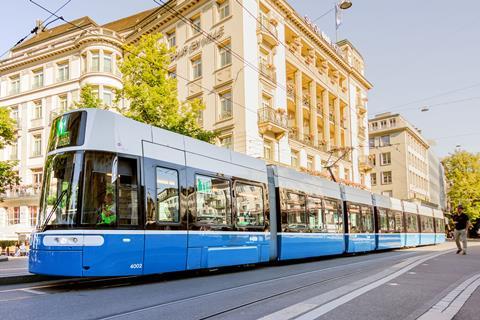 SWITZERLAND: Zürich's first Flexity 2 tram entered revenue service on October 15, ahead of widespread deployment on Route 11 from October 19 and later on Route 4.
Operator VBZ ordered 70 Flexity 2 trams from Bombardier Transportation in May 2016 at a cost of SFr358m including spare parts, depot equipment and driver training.
They are intended to replace the first and second batches of Tram 2000 vehicles, which are nearing the end of their 40-year service life.
The seven-section, metre gauge low-floor trams are 42·9 m long, 2 400 mm wide and 3 600 mm high, with six double leaf and two single leaf doors, 91 seats and a total capacity of 188 passengers at 4/m2.
In keeping with local tradition the interiors have wooden seats, and they also feature USB charging sockets and LED lighting.
The trams have a maximum speed of 70 km/h, and are fitted with Bombardier's ODAS collision warning and braking system.
While they are technically similar to trams supplied to Basel, Wien and Innsbruck, the Flexity 2s feature a front end which was custom designed for Zürich by Milani Design & Consulting.