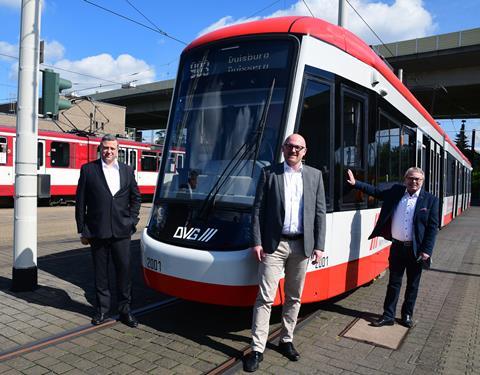 GERMANY: The first of 47 Flexity Classic trams being supplied to Duisburger Verkehrsgesellschaft by Bombardier Transportation has been delivered to DVG's Grunewald depot for testing ahead of entry into revenue service.
Ordered in December 2017 at a cost of €135m, the trams are all due to be delivered by mid-2023. Following testing and commissioning, the pre-series vehicle is expected to start carrying passengers in summer 2021, after which delivery of the series-built cars will begin.
Being assembled at Bombardier's Bautzen plant, the three-section bi-directional cars are 34 m long and 2 300 mm wide, with capacity for 200 people. They are 70% low-floor, with five double leaf doors per side and a single door to the cab. The air-conditioned vehicles are equipped with energy-saving LED technology and a passenger information system, as well as a collision warning device.
'These new trams are another important step towards sustainable and attractive public transport in the city', said Duisburg mayor Sören Link when the first tram was unveiled on September 7. 'We hope that in the future even more people will switch from their own cars to buses and trams. This is not only good for relieving the roads, it is also an important contribution to climate protection.'