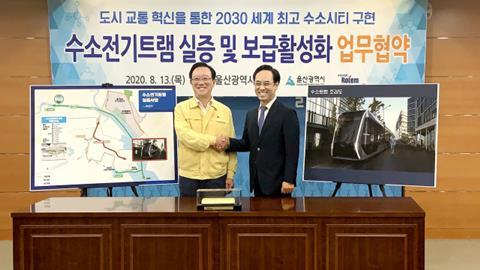 SOUTH KOREA: A hydrogen fuelled tram is to be demonstrated in the southeastern city of Ulsan, following the signing of a memorandum of understanding by Hyundai Rotem CEO Lee Yong-bae and Mayor Song Chul-ho.
Last year Hyundai Rotem began working with Hyundai Motors on the development of a hydrogen tram, with the production of a test vehicle expected to be completed in 2021.
The demonstration project in Ulsan will enable Hyundai Rotem to assess the performance and maintainability of the vehicle and associated fuelling facilities, to support its plans to offer hydrogen LRVs to both the domestic and overseas markets. It is envisaged that eliminating the need for overhead electrification equipment could reduce the cost of light rail investment, and also avoid visual intrusion.
The trial will make use of the 4·6 km railway from Taehwagang station to Ulsan Port, and will help the city assess whether hydrogen fuel could be used more widely on urban transport services in the city.
Under the MoU signed on August 13, Hyundai Rotem will be responsible for production and commissioning of the trams, track, signals and fuelling point, while the city will obtain the required approvals and provide administrative support.